'The great aim of education is not knowledge, but action'
~ Herbert Spencer
Please note: Anna is not running live workshops at the moment – please check back again later. 
Live Workshops with Anna Partridge on Positive Parenting run regularly in Sydney, Canberra and Melbourne on the following topics;
• How to Raise Confident and Resilient Kids
• How to Yell Less and Enjoy your Kids More
• How to create a stress-free bedtime routine
• Understanding Temper Tantrums
==>> Check back for Anna's next workshop coming to a city near you soon.
---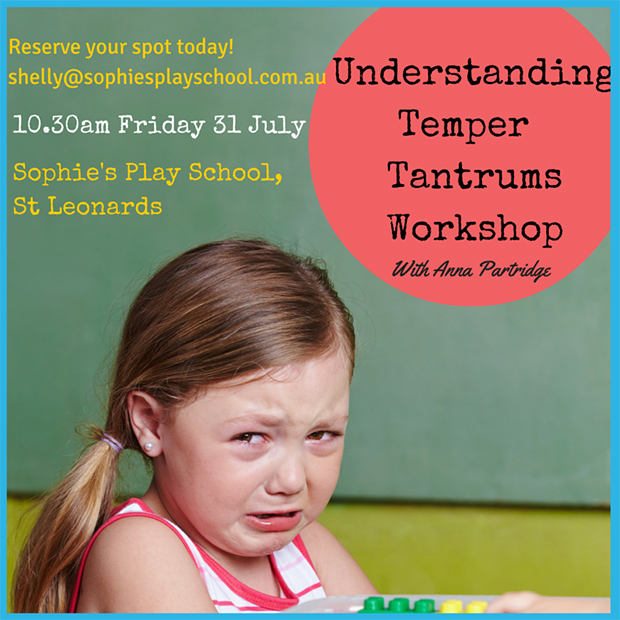 Understanding Temper Tantrums Workshop
Are you struggling with your child's temper tantrums?
Do you feel like they are getting out of control?
Has your child had the classic 'supermarket tantrum' and you didn't know what to do?
If you answered 'yes' to any of the above, then come along the 'Understanding Temper Tantrums' with parent educator and school teacher, Anna Partridge. It is being held at 10:30AM on Friday 31st July 2015 at Sophie's Play School.
With a background in Positive Parenting, Anna will help you understand why your child is having a tantrum in the first place and give you practical solutions to dealing with them.
During the 1 hour 'Understanding Temper Tantrums' workshop, Anna will cover the following topics and more:
Understanding the 3 elements that cause temper tantrums
Exploring ways to deal with the dreaded supermarket tantrum
Identifying ways to calm the behaviour down before the tantrums begins
Understanding the frequency and intensity of tantrums in 1-3 year age group
Anna Partridge is a parent educator, school teacher and mum to 3 children.
Cost: $20, Please email Shelly at shelly@sophiesplayschool.com.au to book your spot. 
Sophie's Play School: 10/545-553 Pacific Hwy, St Leonards (Sydney) NSW
---
To have Anna speak at your preschool, school, parenting group or community centre, email Anna here or simply fill out the form on our Contact page.