Interviews with leading parenting experts.
Through her journey, Anna has connected with parenting and child experts who have a brilliant and very relevant message for parenting in today's world. She has interviewed authors, educators, coaches, a children's technology and brain expert and many more. Listen to the latest interviews below.
---
Interview with Cas Hartley, Mum of 4 and Spiritual Mother Mentor
Cas works with mums to help them redefine their 'self' and find their way out of the role of just being 'mum'. I spoke with her about the importance of self care as a mum and practical ways to 'fill your own bucket before others'. Listen to the interview here or below.

---
Interview with Carl Honore, Leading Advocate of the Slow Movement, journalist and Dad.
Carl recently filmed a documentary in Australia called Frantic Family Rescue (ABC, 11 August 2015). He worked with 3 over scheduled, stressed out families to help them get off the frantic paced, hyper parenting tread mill and give them practical solutions to start enjoying a slower pace of life. The results were astounding. I talked with Carl about the current state of parenting, why we have gone into 'pushing, polishing and protecting' our kids and how we can slow down to give our children the best chance to be strong, resilient and engaged adults. Listen here.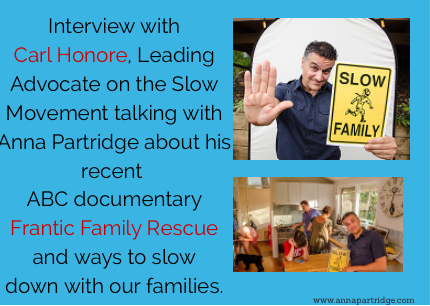 ---
Interview with Dr Kristy Goodwin, Children's Technology and Brain Expert.
Kristy gives sound advice on dealing with technology and children. We spoke about the 5 common misconception around kids and technology including Minecraft. Listen here.
---
Interview with Zanni Louise, Children's Author, Blogger and Mum
Zanni's new children's book, Too Busy Sleeping is being released on 1st September 2015. I caught up with her before the launch to get the low down on becoming a children's author and her beautiful book about brining a new sibling home for the first time. Listen here.
---
Interview with Kelly Burch, Author, Energy Healing Practitioner and Mum
Kelly has a different perspective on 'calming the storm' on our parenting journey. I caught up with her to see how her EFT worked with getting out of the house on time, avoiding yelling and loosing patience and dealing with a child's meltdown (or toddler tantrum) as an alternative view. Listen here.