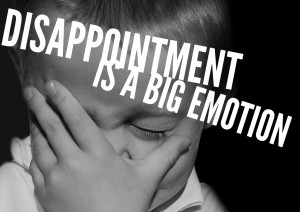 A couple of months ago, we were in the throws of buying a house. We had been back and forth from the city we wanted to buy in for about four months and it was a three-hour drive every time we wanted to look at a house – it was a big ask to drive down there most weekends and look at houses and we had pretty well reached our search limit. In fact, towards the end the kids flatly refused to get out of the car and look at yet another house so my husband and I had to tag team.
This one particular weekend, we were on our way to an auction we were pretty keen to make a bid at and we chanced by a house that had just gone on the market the day before. As soon as we walked in, we knew that was the house we wanted.
We went to the auction, made a very low bid and quickly and excitedly made an offer on 'our new house'.
It could have ended there but… someone made a counter offer higher than we thought we could.
So at that very moment, after four months of searching for the perfect house and countless walking through other people's bedrooms and toilets we were within reach of our dream house – only to be gazumped.
On our first walk through that house we had mentally moved in. We had decided where our furniture would go, which child would sleep in which room, what we would plant in the vegie patch – and it was all taken away. I was disappointed – hugely disappointed. That gut wrenching disappointment that you can feel in the pit of your stomach at the thought of not getting 'our house'.
It was a Tuesday afternoon when we got the news. That same day my son came home from school and told me with a heavy heart that he had not been chosen for the school cricket team.
For the past month, he had dreamed of playing for the school team and thought about what he would do on his first match. How he would wear his cricket pads, hold the bat, run after he had smashed the ball for a 6 and he had practiced and practiced in our yard. At the try outs, he dropped a catch and that was the end of his quest. To hear he wasn't going to be in the team was a huge disappointment for him – the same gut wrenching pain I felt over the house.
I felt helpless for him and wanted to fix it – I also wanted to fix my disappointment, but to fix disappointment would have been counter productive for both of us.
Right at this moment, I needed to 'be' with him.
I needed to validate it 'sucked big time' he didn't get into the team. I didn't need to offer him treats to make it better or take him out for dinner to ease the pain or tell him there is always next time. I needed to let him feel what disappointed was.
By sitting with him and hearing how bad it was, I was letting him experience the feeling of disappointment and could show him it was OK to feel this way. I talked to him about my own disappointment and we could share together.
While we were talking, he was building his own strategies and tools to bounce back from the disappointment in his head – having these strategies is a life long skill we can teach out children.
Teaching our kids how to bounce back from disappointment, sadness and negative life events – rather than 'fix it' for them – is one of the most valuable gifts we can give as a parent. Building resilience and strength to climb from the low moments to higher moments is invaluable.
Here are 4 ways you can help your child through disappointment
1. Allow your child to feel the disappointment.
Don't rush in to comfort straight away or offer a food treat to make it 'better' – let your child feel the disappointment for a time. You want your child to be able to create their own solutions for bouncing back. Of course if they are crying inconsolably, you would give them a cuddle or soft touch on their back, but otherwise it is not a bad thing for our child to feel the disappointment.
2. Validate your child's feelings.
Agree with your child that is feels bad not to be accepted into the cricket team or to not be chosen in the choir. Don't use words such as 'you just weren't good enough this year – maybe next year' – they doesn't need to associate negative emotions with it. Offer words of encouragement and validation.
A little girl was crying next to me yesterday at the kids swimming carnival. I asked her what was wrong and she told me how she was in the marshalling area ready to try out for butterfly and got scared – now she was watching the race she was meant to be in and was disappointed with herself for not going in it. As she talked more and her friends gathered around, she decided it was not such a bad thing after all and managed to convince herself she did the right thing with a lot of validation from all of us.
3. Brainstorm solutions to bounce back
Talk to your child about strategies they used to overcome their disappointment – it might be at the dinner table that night when you are reflecting on the day. Don't dwell on it or single it out as a significant event, but talk about some of the strategies they used when they are no longer emotional over the event and can think more rationally. You could combine it with other lessons they might have learnt from that day or get other members of the family to reflect on their own strategies for bouncing back from disappointment.
 4. Children live in the moment
As adults, sometimes it feels like disappointment can last for hours or even days. But for children who very much live in the moment, it lasts as long as the next cute puppy walks past. So don't dwell on it with them or over catastrophes the situation.
Feel it, validate it, talk about some strategies to bounce back then move on. They will be ready to move on pretty quickly and you need to as well. By the time my husband came home the night my son didn't get into the cricket team, I was still disappointed for him and he was over it. He had moved on to the next thing to strive for. While not dwelling on it, do reflect back on it at some stage to ensure lessons have been learnt for the next disappointment.
Here are some further articles from trusted parent educators to help your child through disappointment;
– Helping your child through disappointment with positive parenting educator Ariadne Brill
– Helping kids manage big emotions – essential parenting ideas with parenting educator Michael Grose
– Why stickers, treats and 'tificates don't work (much) with parenting educator Maggie Dent
 What is the biggest disappointment your child has had? Continue the chat on BombardedMum's Facebook page here.
---
About the Author: Anna Partridge

Anna Partridge is a Parent Educator, School Teacher and freelance parenting writer. She is also mum to three beautiful, highly spirited children aged 9, 8 and 5. She created BombardedMum.com to share the inspirations and joys of raising the next generation and to allow mums to think about the 'big picture' of parenting by providing tips and advice to instil the right habits, values and beliefs in their children from the start. Anna is privileged to work alongside families to create calm and balance, help raise confident and resilient kids and support strong and connected relationships. Anna offers private parenting and family coaching at www.annapartridge.com