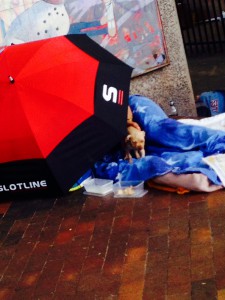 As a complete break from tradition on BombardedMum writing about parenting, I am writing about homelessness. To balance things out in my life and keep me grounded, I work three days a week as Public Relations Manager for a non-profit organisation in Sydney's Kings Cross. I was lucky enough to spend a morning on the streets filming a short clip to raise awareness about homelessness and it completely blew me away. I share my morning with you here….
I have been coming to work at The Wayside Chapel in Kings Cross three mornings a week for the past 19 months. People I meet at Wayside are homeless, drug addicted, socially isolated and mentally ill – or have just fallen by the wayside.
But today was different.
Today, I came to work to meet with a producer and Wayside friend to get footage for a clip we are filming to raise awareness of homelessness and so we walked into the streets of Kings Cross.
The people I have come to know over the past 19 months in the safe confines of Wayside, I now meet on the street. I saw where they slept, how they slept and how they woke up. I was in their territory now and it was a whole different world. I also saw many new faces of people who were on the street. It was confronting, scary at times and a complete eye opener.
I saw a girl who I see walking the streets most days, wake up. She was sleeping against the wall of the police station under the bridge at Woolloomooloo tucked up in her sleeping bag. Her two dogs were nestled in beside her. She sat up in her white dress that she wears, looked around and took in the warm morning air. She went to the communal toilets across the road and she came back to roll up her sleeping bags and her day began. It was 6.05am.
I met an Aboriginal man who was part of the stolen generation. He was living with his partner in a pop top tent on the roof of his car and was proud to show us it parked across the road. Although he had a car and a tent, he had nothing else but this shelter. He had no where to park it but under this bridge here – near toilets and other people.
He told me how in the 1960s, his Aboriginal mother and father would hide their kids under the floor in a room of their house anytime they got a sniff that the police or authorities were coming around. They staved the authorities off for some time, but eventually in the end they found the kids and distributed his 7 brothers and sisters across the state. The scars of this day were still so real and this man is now in his 50s. After losing their kids, his father spent 10 years in a mental institution and eventually died in Rozelle hospital. 'He went crazy because he couldn't protect us. I was in and out of boys homes and foster care.' There is something raw about hearing this story when you are sitting on the street at 6.30am as the sun pokes it head above the buildings with other bodies still passed out and others waking up for the day after their nights sleeping rough.
I noticed that three or four of the other people I spoke to had blood between their fingers. I learned this is one of the places on your body you can inject to get the best hit – between your toes, somewhere in your leg and in your neck are also good places. I met the girl they call 'Neckie' because she only injects in her neck.
I saw a couple of drug deals going on. I saw a couple being 'moved on' by police for supposedly having had an 'argument' in a public park. They had slept under a close by bridge, about 1 metre from the traffic and had gone into the park when it opened for some refuge. It was 6.45am. I later spoke to them on the street as they went to get their 'done.
A veteran of the street was making a racket reciting something across the road from where we were standing – I had my Wayside Chapel t-shirt on and as I listen closely I heard him saying 'In 1964, Rev. Ted Noffs started a place for young people to get them off the streets. It has been going for 50 years this year and it is still a place for people who are homeless and drug addicted to come'. He went on and on about Wayside intertwined with bible verses that he had remembered. I have never seen this man at Wayside but he knew most things about it. People were yelling at him from across the street to 'shut up' as it was only 7am and plenty of people were still sleeping. He had a whole little section cornered off with a make shift bed, cupboard and other stuff in his part of the street.
One man we talked to had been a barman in the Mediterranean – I had to help him spell out his words to write it on his piece of cardboard so he could be filmed in the video we were making to raise awareness of homelessness in Sydney. He has also been a tour guide in the Greek islands. His Dad was Greek and owned a car yard – he would work from 7am to 7pm, 7 days a week and he never knew his Dad. Now he doesn't even know where his family are. He is homeless and sleeps on the street, usually on cardboard fully clothed with a sleeping bag he found.
I traced the steps of where the homeless people go in the morning. The well-worn path from sleeping under the bridge is to the station to beg for a few dollars for a coffee. Get a coffee. Walk up the street towards St Vincent's hospital to get your 'done. Methadone that is, a pain reliever used as part of a drug detoxification program. Then they walk to The Wayside Chapel for a shower or if its 11am to St Canice's for a free feed.
We followed the path and spoke to people along the way about their night, their son who had just come out of jail, the hot weather coming today and to a man who had slept in his van all night and was reading the Saturday paper while having a coffee at a café on the strip of Kings Cross. He used to be the editor at one of the top newspapers.
We followed the crowd and thankfully headed for familiar territory. It was 8.50am and we were now at Wayside. 10 minutes before opening time and there were 20 people waiting for the doors to open.
At Wayside, the story of homelessness and despair continued. I heard more stories from people I had known before, maybe because they knew I had been in their territory and had seen how they lived. I now had empathy.
I saw a photo of one of our regular Aboriginal men when he was 3 years old. He had been sent to the Royal Far West Hospital in Manly to have callipers on his legs. His parents had to stay at home with the other kids so he remembers coming by himself on a big plane. Now he has 5 grandkids and wanted to tell me his story this morning.
I spoke to a man who is doing really well. He was homeless and used drugs, but hasn't for some years now. I had seen him the day before and he was worried because his daughter in foster care was doing really well and his ex wife wanted to take his daughter away. He was ready to use again yesterday. But today, he told me he didn't. He had been strong and now he had the courage not to use today.
There was an older couple who have been on and off the streets for years willing to help us do our film. They are sleeping rough at the moment and someone had been through their camp last night. They had taken some of their stuff.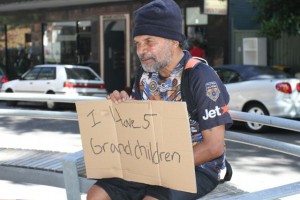 A younger couple had just bought a little blue healer and loved it. They were on the streets for the weekend because there was no accommodation to be had with a dog. So their option was to set up a shelter somewhere and stay there for the next two nights until Monday came again and there was more hope to find some accommodation. The girl loved the dog and wouldn't give her up.
You may notice here that most of the pictures are men. There were a smattering of women also on the street, but they were not as willing to share their story with us. They were mostly too ashamed of where they were or were living with a long term mental illness and this was confronting at 6am.
This morning was a morning that will stick with me for a long time. I am all good being at Wayside where people come for a shower, cup of tea, help to find somewhere to live but today, I crossed into their territory and in the stories I heard and the things I saw, it has changed me. Spending four hours from the early hours of the day walking the streets gave me a huge insight into life of the 1 in 200 Australia's who are now homeless. Not to mention the estimated 32,000 children between the ages of 12 to 18 who are homeless or the 25 per cent of homeless people who are indigenous.
We were filming footage to make a short clip aimed at raising awareness of homelessness on the streets of Sydney with producer, Cam Elkins and one of Wayside's friends Rob Holt – who has been homeless at one point in his life. He was our insight. We asked people to write down one thing on a piece of cardboard that they were proud of in their lives or that we wouldn't know from just walking by them. Earlier this year, there was a great short clip released from Rethink Homelessness in Orlando, Florida and it was shared millions of times all over the world. You can see it here https://www.youtube.com/watch?v=THxtcWNw3QA.
Homelessness is just a big a problem in Australia as it is in the US, with an estimated 105,000 people homeless on any given night. So we shot footage to make our own rethink homelessness clip for Sydney and we hope to release at the end of November 2014. It was a privilege to be involved in such a morning and see life from the view of  someone who slept rough and on the street last night.
---
Enjoyed the read? Follow BombardedMum on Facebook here.
About Anna Partridge, Founder of BombardedMum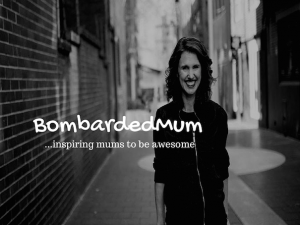 Anna Partridge is a school teacher, parent educator, mother of three young children and founder of parenting and education blog, BombardedMum www.bombardedmum.com. She walks alongside mums with children aged 0 to 12 years to run the often treacherous gauntlet of motherhood. She inspires mums to be the most awesome mum they can be and gives them empowerment, inspiration and confidence to be a great mum and great woman. Anna runs parenting workshops about 'Raising Confident and Resilient Kids' and other parenting related topics. Through her work, Anna is building a community of mothers who are sharing the inspiration and challenges of raising the next generation. To balance things out, three days a week Anna works as the Public Relations Manager for non-profit organisation, The Wayside Chapel in Sydney's Kings Cross.