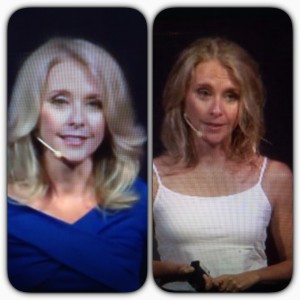 Australian TV journalist and news anchor, Tracey Spicer has done a brave and beautiful thing. She has shown her young daughter that you don't need to hide your beauty behind a mask of foundation, lipstick, mascara and hair serum. You can be you. You can be exactly who you are and love it.
From this very conversation with her daughter, Tracey came out from behind her mask.
' It was prompted by a question from my seven-year-old daughter, as she watched my elaborate ritual. "Mum, why do women put on make-up and men don't?" she asked.

"Darling, society has unrealistic expectations about the way women look," I replied. "It's not fair. But I'm going to do everything I can, in my own small way, to change that. Always remember: you're beautiful just the way you are."
This small conversation made Tracey realize she had become ' a painted doll who spend an hour a day and close to $200 a week putting on a mask'.
And so she stopped.
She left the make up off and let her hair be free. In doing so she taught her daughter the most important message of all – 'you are beautiful just the way you are.' She copped flack for having frizzy hair, asked if she was unwell or is she wasn't getting enough iron as she looked washed out. But she was brave and carried on.
Telling our girls from a young age and more importantly showing our girls the importance of being yourself is essential to raising confident, resilient girls.
One of the factors to building resilience is developing a healthy self-esteem and sadly, low self-esteem in teenage girls is a huge area of concern.
In a study of out of the UK earlier this year, it revealed that 1 in 4 girls between the ages of 11 and 17 are weighed down by pressure to conform to an 'ideal notion' of how they should look. More than half the girls described themselves as 'average' or 'ordinary' with 10 per cent saying they were 'plain', 'ugly' and 'unattractive'. As a result, girls of these ages are spending 23 minutes a day applying make-up and beauty treatments and 19 minutes choosing what they should wear.
The 'ideal notion' comes from media pressure, peer group pressure and more importantly, from our very own female role models when we are growing up – the people we watch on a daily basis. This is mostly our mothers, mother's friends, older sisters or even grandmothers.
As a mother then, it is our job to be a role model for our girls and show them how to be beautiful and self-confident without wearing a mask.
Personally, I don't wear make up in my daily routine. I never have. My role models were my Mum and my dear Granny who also never wore much make up. My Granny's skin was amazing – right until she died at aged 87 and my mums skin is that of a much younger women. They were proud to show their face to the world and so am I.
But what my mother and grandmother did show me was to be a proud, feminine woman. They taught me that self-care was important and set up good habits around feminine hygiene and to dress nicely. They set up good habits around healthy eating and physical activity.
Now a mother myself, I know my 9-year-old daughter watches every move I make. I accompany my husband to public functions a couple of times a month and when I do, I put lipstick on and a nice dress. A few weeks ago, we were all going out for a casual dinner with friends so I told the kids to have a bath and get ready. My daughter was spending an usually long amount of time getting ready. She came down in a fancy dress with lipstick on! When I questioned her on it, she said that is what I do when I go out. It was certainly not appropriate for a casual Sunday afternoon dinner but just goes to show how closely our daughters are watching us.
In this article, I am not suggesting you strip yourself bare of make up right now or don't dress nicely or stop shaving your armpits – but as mothers, we need to think about the message we want to send to our daughters about loving and valuing ourselves for who we are and being role models for building healthy self-confidence and self-esteem. Let's teach our daughter that what is inside their heart and their head is more important than their appearance.
Thank you Tracey Spicer for showing our daughters what it is to be a natural beauty and that it is fine to be yourself – especially from such a high profile media personality. See more of Tracey Spicer's brilliant message at her TedxSouthBank talk in Brisbane earlier this year here.
What message are you passing onto your girls?
Follow BombardedMum on Facebook here or sign up for weekly parent tips and tricks here.
---
About the Author: Anna Partridge
Anna Partridge is mum to three beautiful, highly spirited children aged 9, 8 and 5. She created BombardedMum to share inspirations and joys about raising the next generation and to allow mums to think about the 'big picture' of parenting and instilling the right habits, values and beliefs in their children from the start.
Anna is a Parent Educator, holds a Bachelor of Education (Primary), a Bachelor of Communications and is a freelance parenting writer. She is privileged to work alongside families to create calm and balance, help raise confident and resilience kids and maintain strong and connected relationships. Anna offers private parenting and family coaching at www.annapartridge.com.