This week on the blog, Early Childhood Teacher, mother and blogger over at Teacher Types, Lauren Hunt is sharing her view on the importance of play in Early Childhood and gives some great examples of how to incorporate play in various settings.
Letting your kids play is well documented to have positive impacts on cognitive and intellectual development allowing your child to learn problem solving skills, take risks, develop their language, develop their memory and strengthen and build important brain pathways. In fact, the Australia wide Early Years Learning framework is underpinned by play-based learning that is taught in every preschool and day care setting. Here is Lauren's insight… 
As a parent, have you ever uttered the phrase "They're just playing"? Or as a teacher, do you often hear parents say the words "They're just playing"?
Learning through play is one of the most commonly used practices in the Early Childhood sector. It is a well researched theory and Early Childhood approaches such as Montessori and Reggio Emilia base their philosophies around this notion.
Most Friday afternoons, I schedule "Free Activity" time for my class of five-year olds. When I take a moment to stop and observe the children closely – the learning that is happening is truly special. Especially because the children don't know they are learning and they are enjoying themselves! This is the key with play-based learning.
Here are a couple of examples…
In the home corner, children are acting out familiar family scenarios, pretending to cook meals, caring for others, cleaning up and practising various other life skills.
Puppet play gives children a chance to act out scenarios in order to process and make sense of their world. It's also a great opportunity to practise social skills – what to do and what not to do in certain situations.
Learning the alphabet and sight words in hands-on ways may look like free play – but there is serious learning going on! Whether it be playdough, sand, alphabet pebbles…the list goes on.
Playing with blocks is a chance to learn about 3D shapes, and construction whilst being creative
Making 2D shapes pictures and patterns or playing with puzzles is all part of valuable mathematical learning
Reading games, maths games, partner games are just a few other examples.
However, it should be noted that the teacher has an important role to play as well as the facilitator – to question the children, encourage them and scaffold their learning. From my personal experience, child care and kindergartens do this very well. It's when children begin formal schooling that play based learning is reduced and academic worksheets type lessons take it's place. It's all about finding a balance – between my personal early childhood beliefs and values and my school's expectations and methods.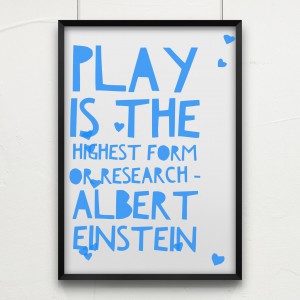 Photographs with captions (either written by the teacher or the student depending on their abilities) are a great way to document children's play based or hands on learning to parents, and gives evidence of what they've done in that lesson – rather than having a worksheet stuck in a book.
The learning environment is also a vital factor in giving children enough opportunities to learn through play. Inviting learning centres and activity tables with carefully chosen materials, key words, pictures and tools can provide wonderful opportunities for learning.
So next time your child is playing – stop and take a closer look. Listen to the language they are using, post questions to them, extend their thinking and join them on their journey.
Want to connect with Lauren? Head over to her blog at Teacher Types for some great ideas around Early Childhood.
---
About the Author: Lauren Hunt 
Lauren has been an Early Childhood Teacher in Adelaide, South Australia for the past 10 years and is currently teaching Kindergarten. She is passionate about play-based, hands-on learning as a teacher and as a mother to her energetic 2 year old daughter. Lauren writes about sensory play ideas, developing early literacy skills and inspiring the hearts and minds of young children over at her blog, Teacher Types that she started in 2014. She also loves professional photography. Connect with Lauren at her blog Teacher Types here.