Today is International Women's Day and a day to reflect on how far we have come as women and how far we have to go.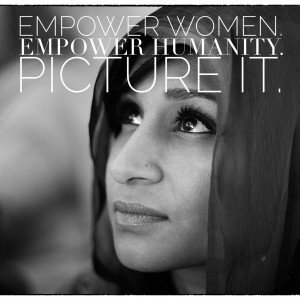 Women make up 50 per cent of the world's population and there is much to celebrate for being a women and a sister in today's society.
However, in many corners of the world there is still widespread gender discrimination that results in horrific acts of violence, lack of choice, little or no access to education, little or no access to healthcare and a genuine lack of basic human rights.
The Western, democratic world is light years ahead on women's rights and equalities compared with the developing, patriarchal societies, however we still have a way to go to achieve true gender equality.
Let's take a look at Australia first.
A girl born into Australia today has access to a good education, access to healthcare, has a choice to work in whatever profession she chooses and takes on a role akin to many male counterparts. The glass ceiling, juggling act between work and raising a family and alarming rates of domestic violence are still barriers to equality.
The feminism movement started in Australia in mid 1800s to 1900s when women campaigned for the right to vote, to stand for parliamentary election and gain protection from sexual exploitation with the age of consent at only 13 years old. Australia was seen as quite progressive in allowing women to vote in 1903, second only to New Zealand and it was the first country to allow women to run for parliament in that same year. The suffragette's campaigned at this time for other social equalities.
However, it was not until WWII broke out that there was a significant change in women's involvement in society. With so many men going to war, women stepped up and entered the workforce in men's roles in unprecedented numbers.
Sadly, it didn't last long. When the men came home from war, women who married were forced back into 'home duties' and it was only in 1966 that a law was passed to allow married women to keep their jobs.
From 1966 onwards, there was a huge spike in the number of women going to nursing college and teachers college to get into the workforce. During this time, the second round of the feminist movement for social equality had taken the world by storm and Australian women joined in.
The contraceptive pill was introduced in 1961, the mini skirt was in abundance and women no longer stayed in the ladies lounge of hotels but marched into the main bar and demanded drinks. More and more woman entered politics and positions of power and women's groups started in the music industry, as artists and bled into all corners of society.
Fast forward another generation and it's ours now. Men still hold dominance in business, politics, law and the media but it is widely accepted that a woman has choice to pursue her chosen career as well as have a family and run a household.
These freedoms too have their challenges. Work/life balance of women today is a major struggle. They are running corporations, running families and still being the ones to give birth to the next generation. Women who work full-time, part-time or stay at home are all challenged by balancing the juggle. According to Annabel Crabb in her book 'The Wife Drought', with 55 per cent of women now in the workforce, it is still only the case that 3 % of families have a full-time working mother with a male partner that stays at home or works part-time whereas 60 % have a father who works full-time and mother who works at home or part-time.
In 2010, Australia appointed its first female Prime Minister, Julia Gillard – only to be challenged a couple of years later when then Prime Minister Tony Abbott appointed only one female to his cabinet.
The glass ceiling still firmly exists and new statistics released last week from the Workplace Gender Equality Agency (WGEA) shows the gender pay gap is at 17.1 % and has hovered between 15 % and 18 % for the past 20 years. It also reveals that pay gaps are in favour of men in every industry and in all roles, including female-dominated industries. This is not all because of gender discrimination, but also because women choose lower paid careers to have time off with their kids, take a break in earnings to raise children or work a flexible, part-time job to manage a family.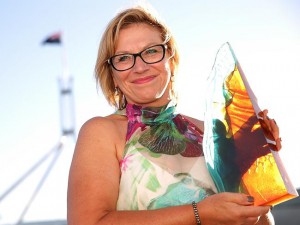 Right now, there is a national crisis summit on violence against women in Australia about to be called by the National Parliament – heavily backed by 2015 Australian of the Year and domestic violence survivor Rosie Batty (pictured) whose son Luke was tragically killed by her ex-husband last year.
Already this year 16 women have died at the hands of their partner and it's only March. 1 in 3 Australian women have experienced physical violence and 1 in 5 have experienced sexual violence. AND women in Australia are three times more likely than men to experience violence at the hands of a partner.
While Australia has come along way when it comes to gender equality over the past 100 years or more, the status and rights of women in Nigeria for example, and Afghanistan have not taken the same journey.
Let's look at Nigeria…
Every girl child born in Nigeria is at a disadvantage. A boy is given higher status and if the family has to choose – the boy will go to school. The girl is expected to care for her siblings and there is added pressure on her to earn money to keep the other children. This leads to early sexual activity, transactional sex and child brides and forced marriages as young as 9 years old.
To add to the situation – Boko Haram is kidnapping girls at an alarming rate, taking them away, abusing them and selling them off to older men. This has forced many Nigerians to flee the North East Zone – teachers have left, parents are too scared to send their girls to school and education, health and well-being for these girls is being made even worse. Right now there are 200 girls with Boko Haram and the people live in fear everyday.
And then in Afghanistan….
Afghanistan has had a long and chequered history when it comes to gender equality. Still very much a patriarchal society, it was made worse with the rise of the Taliban in 1990s when women lost many of their rights. Girls no longer had access to education. Health care was scarce. Human trafficking increased with women being sold for prostitution and slavery. Women were banned from the workforce creating a major shortage of teachers and other professions including their main source of employment: tailoring. Women were forced to wear veils again and had to be accompanied by a male in public.
After the removal of the Taliban in 2001, the Karzai administration has relaxed some of the rules, however the statistics still paint a grim picture and the state of women in Afghanistan has been described as a 'human rights tragedy'.
Afghanistan has the highest rate of child brides and forced marriages in the world with 40 % of girls being married by the age of 18 years.
It has the lowest rate of female literacy at only 17 per cent of women over 15 being able to read and write.
It is estimated only 54 per cent of primary aged girls have access to an education
The maternal mortality rate is one of the highest in the world at 1 in 32 due to lack of health care services for women
Domestic violence has been experienced by 92 per cent of women.
The UN theme of this year's International Women's Day is to 'Empower Women, Empower Humanity, Picture it!'
'To be truly transformative, the post 2015 development agenda must prioritize gender equality and women's empowerment. The world will never realize 100 per cent of its goals if 50 per cent of its people can not realize their full potential'. Secretary General Ban Ki-moon.
According to the United Nations, this years theme 'envisions a world where each woman and girl can exercise her choices, such as participating in politics, getting an education, having an income, and living in societies free from violence and discrimination'.
In 2014, Malala Yousafzai became the youngest person ever be presented with the Nobel Peace Prize for her 'struggle against the suppression of children and young people and for the right of all children to an education'. At 15, Malala was shot in the head by the Taliban because she wanted an education for her and for every other girl in Pakistan. She defied all odds and survived the ordeal. She has made it her life's work to fight for the right to educate the 65 million girls who are neither in primary school or secondary school around the world.
With an education – girls will marry later, have their first child later, seek prenatal and post natal care, give birth in hospitals more often, have smaller families, raise her family income which raises standards of living and access to basic needs including food, water and shelter, have a healthier family with reduced malnutrition, higher immunization rates and lower HIV/AIDS rates and she is more likely to educate her own daughter… so the cycle continues.
So as a call to arms for all women and men – what can you do in 2015 to 'celebrate, reflect and change' to ensure all women have a choice, an education, an income and a place free of violence and discrimination?
Read more about International Women's Day at UN Women here.
---
 Want more? Sign up to Anna's newsletter here or connect on Facebook, Twitter or Instagram.
Anna Partridge is a women's advocate, school teacher and more recently was the PR Manager for The Wayside Chapel in Sydney's Kings Cross. While Anna was living in Washington DC in 2010-11, she studied International Development alongside the Global Health Institute and met Hillary Clinton and Melinda Gates who inspired her to educate and raise strong, resilient girls. As a result she founded BombardedMum.com helping parents raise confident and resilient kids and has been involved with campaigning for educating our girls in developing countries ever since.