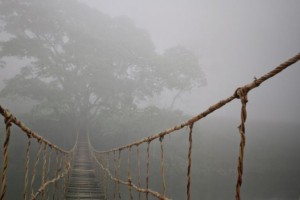 We had dinner out with some friends a few weeks ago. They have three kids aged 8 and twins 6 – combined with our kids, there were six kids under the age of 9, out at a restaurant for dinner, on a Friday night. And we were there for almost 2 hours! This might not sound so big if you don't have little kids, but if you do it is huge!
We had an adults end of the table and a kids end of the table. We talked to our friends and actually finished our conversations. For those of you with little kids, you will totally understand how exciting this is – actually starting and ending the one conversation without distraction is a momentous occasion – especially while at a restaurant with 6 children.
Our kids all ate their dinner. They sat in their chairs all the way through. They played noughts and crosses on the writable table-cloth and they talked to each other. The only intervention was to cut some of their dinners up and they just got on with it.
There were no high chairs, no nappy bags, no crying, no passing the baby between mummy and daddy so someone gets to eat a hot meal.
It was actually bliss and it made me realize – we are finally coming out of the parent fog!
My friend and I were two of the first to have babies in our circle of friends and we spent a lot of time together when our children were tiny. They crawled together, sat in high chairs and ate together and we pushed them in their prams around the park. They watched Peppa Pig and Playschool together. We barely finished a conversation and we either had to stop to feed, change a nappy or go home for sleep time. At one stage, we had 6 kids under 4 together… it was noisy and relentless.
Roll on time and we can eat our dinners from start to finish. We can finish our conversation. We can meet anytime throughout the day as sleep times don't matter. We can go out for dinner and spend at least an hour at a restaurant.We can even have a civilised glass of wine without fear it will be knocked over by little hands or feet.
I have passed this message onto lots of other mums this week so want to share it here. If you are reading this and you have children under 5 – – – they will grow up!
You will soon enough have some space and time to be just you. You will have time to be with just you and your partner or alone with just you and your friend. They will be big enough to shower themselves while you cook dinner. They will be able to go to the toilet by themselves. They will be able to use a knife and folk and cut up their own dinner. They will even be big enough for sleep over's soon.
My cousin has just had a baby and I was talking to my Grandma about what is ahead of him and his wife. My 87-year-old Grandma lamented that the hardest time in her life was when she had three kids under 5. To put it into perspective, she lived through a war, her husband was stuck down with an illness early in life and she was a farmer's wife. But still, these were her hardest times.
And while I do sometimes miss the early morning snuggles or pushing the pram around the park, the kids are getting so much easier. We have entered a new phase.
A phase of more independence and less struggle to get me time. A phase where I can start to dream of possibilities for myself and have energy to actually enjoy my husband again. It is a win win!
And then you will be sad. I wrote earlier this week about being nostalgic for my kids being small and dependable and my little one going off to school next year and how the little, small, snuggly moments will be gone soon enough. But I am also realistic enough to know that I have put the hard yards in with my kids early on and I have enjoyed those small and beautiful moments. Life must change and it must move on and with it comes new joys and new challenges.
However, I do think this are the dream years! Having children between 5 and 12 are quite possibly the prime years.
I met with a friend who has teenage girls and I heard about her challenges as a parent. She has dropped down to part time work so she can be there for her kids. One went on a school trip to Paris and did a midnight dash to the Eiffel Tower so is now facing a couple of days suspension on her return. The other is having friend problems at school and has been cyber bullied. There is body image, self-esteem, puberty, boyfriends and so many other challenges that go with being a teenager.
So these are definitely the dream years. The years where we can love and have fun with our kids who still want to know us and be with us.
Which phase are you in?
0-5 years – physically exhausting
5-12 years – dream years
12-18 years – mentally exhausting
---
Don't want to miss out on a post again? Sign up here to have it delivered each week.
---
About Anna Partridge, Founder of BombardedMum
Anna Partridge is a parent educator, school teacher, mother of three young children and founder of parenting and education blog, BombardedMum www.bombardedmum.com. By working with mothers to help find the 'big picture' and identifying the stressors and energies that are holding mums back from being the most awesome mum they can be, Anna allows families to create calm, connected and resilient children. More information: www.annapartridge.com.